The Chateau Sheds Construction in Toronto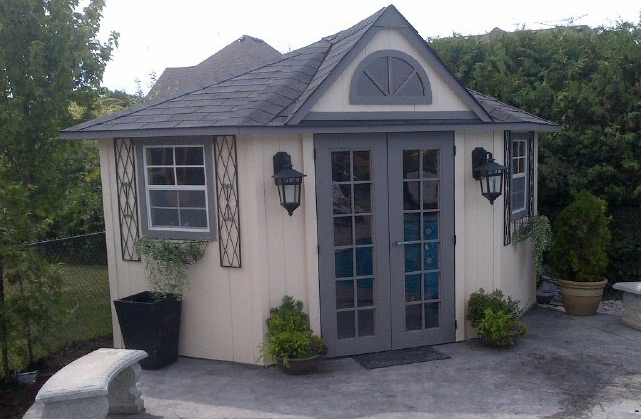 The Chateau shed design is a modified version of the Renaissance. Both designs having five sides, so they fit easily into a corner. The difference between the two being the Dormer over the front doors. The dormer allows for the addition of a window to the design, which is available in either a triangular design or half moon. This design serves particularly well as a pool house, and because of the five sided design it maximizes space. All of our designs can be customized to your specifications.
Our Toronto Chateau Shed Services Include:
Chateau Shed Sales
Chateau Shed Construction (We don't use sub-contractors)
Chateau Shed Door Replacement
Chateau Shed Window Replacement
Chateau Shed Accessory Installation
What Toronto Homeowners Are Saying About Our Chateau Sheds
Lees Sheds is rated 5 / 5 based on these 23 happy customer reviews
---
Hi, We had our shed built in August 2018. Installer was prompt and professional. He took his time to make things right. Made sure everything was level. Finished in one day and the shed looked great! Would recommend to everyone!!
Would recommend

We purchased an 8'x10' Garden House 2 years ago, and it has weathered 2 Canadian winters, and one of the driest and hottest summers in recent memory. and the shed is still level, and as solid as the day it was built. I have just given the Lee brochure to a neighbor.
Outstanding

I had a Renaissance shed built April 2016. They did a wonderful job and it looks great . I had my fence in the backyard replaced and in doing so the fence workers damaged a small section of the skirt I called Lee Sheds and spoke with Shirley explaining the damage , I sent some pictures of the area and as they were already working in the vicinity the next day they came and repaired the damaged section. Awesome customer service. Thanks Shirley and Lee Sheds for outstanding customer service
Still happy after 9 years!

Still happy with our Cabana shed after 9 years! Ordering, delivery - couldn't be easier. The only thing I would say is we had to have the concrete pad poured. But they could also put it on patio stones. They were in and out and done in a day! Looks terrific. I love the extras like window boxes. VERY economical too. We added the lighting and electric and venting and painted it ourselves. I have many times, and would continue to highly recommend Lee Sheds.
Pleased with my Cottage 8X12

The shed looks great, the installer was very neat and left my yard cleaner than when he came. Painting the shed was easy to do (no priming needed so it was one step painting). and after all I now have a much more organized garage, I have been able to move all the yard tools where they are more accessible and I dont worry about them falling over and scratching my car

---



Brilliant Service

We ordered a Hutch for our back garden. The installer was brilliant and the whole job was done in less than 4 hours! Sadly, our neighbor complained that the location violated by-laws, but no trouble at all to Lee.......the team arrived a few days later and moved my Hutch. No muss, no fuss!! Excellent service; great product!

---



Loving my new shed!

Loving my new shed! Justin did a great job on the install. Thanks toeveryone at the shed company for providing a place to store our cottage toys and tools. It looks great. You can be the judge. See attached photo. Kind regards, Bob

---



We are loving our new shed!

We are loving our new shed! It may even look better than our house. It's great to finally have storage! Small houses in Toronto are lacking space, so the shed storage is very much needed. I have attached a pic of our lovely shed. Cheers, Jen

---



Our shed was built on site in one day! No hassles and everything completed as ordered. Thanks!

---



Awesome

Had a 10 X10 renaissance built and was very impressed with the quality and workmanship that was put into this shed. I highly recommend Lee sheds for those who need a shed built .

---



I just want you to know how pleased

I just want you to know how pleased we were to have worked with you and >with Justin. Your welcoming, approachable voice over the phone, and your >patience as I called you each time for more clarification was greatly, >greatly appreciated. Your advice, backed by your expertise, was also >greatly appreciated. We also appreciated that you popped us into the >schedule enabling us to have just enough time to get items stored before >we had our first significant snow fall! > >Justin was also a pleasure to work with for his good humour, (very >cheerful, smiling), warmth, professionalism work ethic, punctuality and >expertise. He worked diligently and had the shed constructed in a >fraction of the time that we would have thought it would take because he >worked so efficiently and with his experience We are very pleased with >the finished product. The quality and the shed's appearance is exactly >what we would have hoped for. We definitely made the right choice >choosing Lee Sheds. > >You are both excellent and commendable representatives of Lee Sheds. We >will be very happy to be a reference. > >We wish you, Justin and the rest of your team a wonderful and >well-deserved rest during the holidays. Thank you again for making our >experience a really positive one from start to finish!

---



I'm very happy with the shed. Only complaint I have is I am now painting it and I'm wondering what I do with behind the decorative shutters as they were stapled on. They are also screwed on as well but because of the staple I'm not sure how to paint behind them. What do you suggest? Thanks, Steve

---



top quality

I was really intimidated with purchasing a shed as it is a great sum of money. I dragged my sister off with me to see the sheds at the Keele location and my first experience with Lee Sheds. Ron Phillips was a great deal of help in person and via email and even more helpful when I came back to make my purchase which is not my normal experience. Usually once people know you are set on buying their product, the helpfulness isn't always there. Thanks Ron, I left your office without that horrible feeling of "what have I done." My next contact was Darren who installed the shed. I waited for him to arrive before I went to work to show the installation area and electrical outlet. Darren was so nice and despite my vague direction as to the location, when I came home from work, I was really happy with where the shed was installed. It was as if I was here saying, no, a little to the left, now, maybe just a little to the right. the location was left very clean. Unfortunately, I do not have the opportunity to thank Darren in person, I hope you will pass on my thanks. The shed is a quality product and I am happy with my purchase (so far). Your employees are also top quality. Thanks Lee Sheds.

---



very, very pleased

I purchased this shed from Lee Sheds and wanted to share the picture with you. I am very, very pleased with it and it has helped to store all my outdoor furniture and then some.. Thank you for a job well done! I love my new shed.

---



You Get What You Pay For...

I just thought I should let you know that I am happy I went with Lee Sheds. The end result is better than I expected and we couldnt be happier. The "Shebana" model worked perfectly for our pool area - it looks awesome. I have pictures to send to you! The installation was very easy (for us!) - he did a great job and made the whole experience very painless. Very much appreciated! Cheers!

---



beautiful new shed!

I wanted to say how happy we are with our beautiful new shed! Your contractor was excellent and the workmanship of the shed is fantastic!.

---



I am e-mailing to write about a very positive experience that I had while at Lee Sheds about 2 weeks ago. I stopped in at the location in Alliston to check out the sheds at that location. When a salesperson was unavailable, "Darrell' stepped in to answer all of my questions. He was an excellent spokesperson on behalf of Lee Sheds - indicating to me the specific features that would make the purchase of a Lee-built shed a wise investment/decision. While I haven't yet made a decision about whether to purchase a shed this year, "Darrell" has made a very strong argument for why I should purchase a Lee Shed when I am ready to do so. Thanks, Darrell, for the time that you spent answering all of my questions; yours was outstanding customer service.

---



Hi Craig, Just wanted to express how happy I am with the shed. Justin's a pro and did an amazing job. It's more than enough to fit all the things we need and adds to the appeal of our home. I'll surely recommend lee sheds and Justin to all our friends and family. Thanks

---



Three years ago you built a custom shed for me. I love the beauty & convenience of it. It fills my every need for storage of yard equipment & furniture. It has stood up very well to our severe winter weather. Everyone that has seen it comments on how well it fits in the yard. Thank you for work well done. I look forward to having you complete other projects for me.

---



Great work, on time, went up very quick, great worker. Would recommend this company to any body.

---



Lee and Craig, I've just returned from my vacation and am thrilled with the "tweaking" of my shed. I truly appreciate the time, effort and inconvenience it cost you to travel here. But, rest assured, I am very pleased and will promote your product at every opportunity. Regards.

---



I would like to thank you for the excellent service provided by Lee's Shed. Our shed was built in June 2012. I have referred your company to a number of people and they have also been happy with the results. Thank you.

---



Lee, Thank you for your note following completion of our shed. We are very happy with the outcome and love the way it looks in our backyard. Justin was very courteous, professional and neat. As requested I am forwarding some pictures of the shed. I will gladly tell my neighbours about where we purchased the shed. Good luck and take care.

---



Good afternoon! We are so pleased with our shed that we wanted to send along photos of the project. The shed came back in May and we have really loved having it -- it has completed our backyard I send 2 "before shed" photos and then during construction and a final "completed" photo from June. It continues to be an attractive feature of our yard (we just added a spectacular rooster weather vain to the top and I would be happy to send along even more recent photos if you think you will use them!). Thank you Lee Sheds!

---



This is a picture of our Hutch we purchased in the summer. This has to be the best purchase we've ever made. Looks great, very well made, and helps us organize everything in the backyard. It was up in one day as you promised. I feel my stress has reduced 200%. I will recommend your service to my friends and neighbours. Keep up the good work!

---



Just a quick note to let you know I'm very happy with my new shed. The installer was professional and did a great job. Once it's painted completely and I've had a chance to adorn the window planter boxes, I will send you a picture. Thanks again PS I've had positive comments from Family as well and hope at some point you will get referral business.

---



We purchased a shed from Lee sheds May 2013. Here is a photo of our shed that was requested. Thank you , very pleased with lee sheds.

---



If you are looking for a Chateau Builder in Toronto, please call us at 1-866-893-9511 to speak to a Customer Service Representative or fill out our online request form.