Toronto Custom Shed Building – Shed Construction Services in Ontario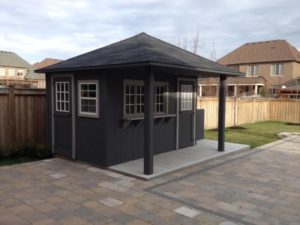 Storage problems can get seriously out of hand if not efficiently dealt with. Items invading the garage is a problem that most Ontario residents can readily identify with. The solution? A handy storage shed at the bottom of the garden.
Custom-built outdoor sheds are definitely the perfect solution for storing not only accumulated stuff in your house, but also handy for storing garden tools and other bulky garden equipment such as mowers with their pesky, damp, grass encrusted wheels that leave dirt trails all over the garage floor.
Of course, outdoor sheds in Ontario don't only have to be seen as storage sheds. They also make great playrooms for kids, artists' studios, potting sheds, workshops, hobby rooms, sewing rooms, reading rooms, pool equipment enclosure, and change rooms. For top quality custom shed construction services in Ontario contact our professional Toronto custom shed builders here at Lee Sheds.
Shed Construction (We don't use sub-contractors)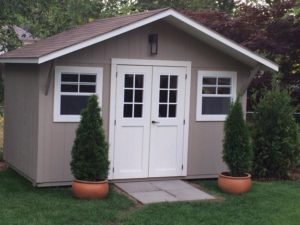 Shed Construction services in Toronto are a great way to get a beautiful custom shed that fits your existing home's beauty and style. Buying a backyard shed that is already built leaves you with very little style choices but when you get your Toronto shed custom designed and built by Lee Sheds, it's guaranteed to be unique and exactly what you asked for.
Our custom shed construction and shed building services can be performed on-site at your location to ensure the best possible assembly and installation service. We routinely perform custom shed construction that allows our customers to design and install the perfect shed for their needs.
Shed Door Replacement
Shed doors will sometimes need to be replaced depending on the amount of use, wear and tear, and how the weather has treated your shed over the years. Rest assured that no matter what type of shed you have or how old it is, we can replace the shed door with a beautiful and more durable shed door of your choice. We can even provide custom shed door design and painting to give it that unique look of style and charm. Give Lee Sheds a call today and we will provide a free on-site consultation and estimate for your Toronto shed door replacement needs.
Window Replacement for Sheds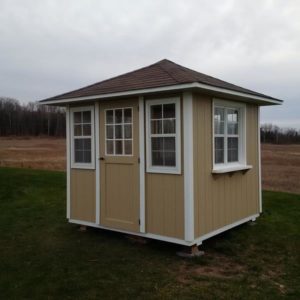 If your Toronto work shed is in need of replacement windows, look no further. Lee Sheds is an expert at replacing shed windows, doors and other parts and can work with any style or manufacturer of sheds. Since we build most of our sheds custom on-site, we have all the tools and replacement parts needed to ensure your shed windows can be replaced to a like new condition.
Shed Accessory Installation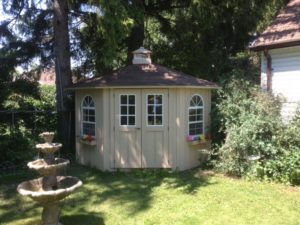 Are you looking to upgrade your old shed or add new accessories such as a chimney, windows, indoor work bench, access ramp, window sills, shutters, tool hanging racks or other cool new features? We can provide expert installation of any shed accessory or feature you might be wanting or needing despite how old your shed may be. We can also work with any model or brand of shed, even if we did not build it. Our shed accessory installation experts in Toronto can provide all the new features and accessories you have always wanted, and might even be able to suggest new accessories you have not thought of, but will love. Give us a call at Lee Sheds today.
Our Toronto Custom Shed Products Include:
If you're looking for a Toronto shed builder for custom shed construction in Ontario please call 1-866-893-9511 or complete our request estimate form.