Types of Toronto Sheds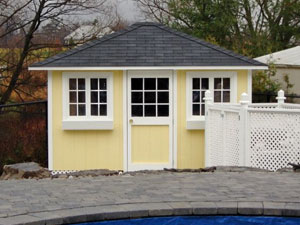 Sheds are of many kinds. There are some sheds that are built with all kinds of facilities in them. Many sheds that are built sturdily, and it does not have any other facilities inside the structure. The underlying fact is that, shed is nothing but a structure that is built near the main structure.
Sheds are mainly a places where the things that are excess and which are not easy to store in the house, can are placed. The shed have some basic features. Most of them do not have any electric supply inside them. They do not even have windows. This is to keep the stored items safe and free from dust and dampness. It should have enough place where the things can be stored. Houses that do not have attics or basements should surely have a shed nearby to store the things that overflow from the house.
A person interested in gardening will benefit from a potting shed as it can contain all the things that are related to gardening. These could include things that are needed for potting or repotting the plants. Other materials used in gardening can also be stored here. This kind of shed will benefit from a light source for the person to work inside the shed
On the other hand, tool sheds help to store all the general tolls that may be needed for everyday use. Big items like ladders and wheelbarrows can also be stored here. Anything that is not used on a regular basis inside the house can be stored here. This includes equipment used in outdoor sports, lawn mowers and water hoses. Though these sheds may not need lighting, they do need a big enough door to move things in and out of the shed
Animal sheds are useful to house small animals like rabbits and chicken. These sheds may not need a roof unless the weather is very rough.
Sheds are also used to store wood in the houses where wood is used in heating the house. The wood storage shed should be dry so that the wood burns easily when used. These sheds do not need any amenities at all.
A creative shed needs all the facilities for a writer or an artist to do their work away from the hustle and bustle of daily life. These sheds need to be insulated from noise and also from the other elements of nature. Windows, heat and power supply will help the person using it to have a great time.
If you're looking for a professional Toronto custom shed builder, then give us a call today at 1-866-893-9511 or complete our request estimate form.