Storage Shed Windows And Storage Shed Doors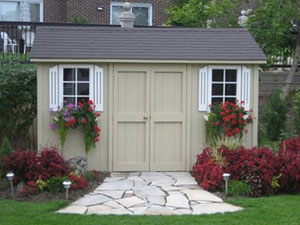 By taking advantage of cute and stylish storage shed windows and storage shed doors, your scary shack could receive a makeover that turns it into a shed that adds to the property value of your home. Actually, many of the shed windows and shed doors available may even make your shed look better than your own home.
By utilizing style when choosing your windows and doors, you can build or makeover a shed into a charming carriage house, bungalow, cottage, or even the cutest little barn anyone has ever seen!
When choosing decorative storage shed windows and storage shed doors, keep the following in mind.
What Do You Want Your Shed To Look Like?
Do you want it to look like a miniature version of your home or do you have another style in mind? The look you want to achieve will help dictate the appropriate shed windows and doors you should choose.
How Will You Use Your Shed?
What will go inside your shed? If large items, like a motorcycle, will be stored in your shed, you may need to choose double doors instead of a single shed door. Do you want ventilation in your shed? If so, you should install windows that open.
Storage Shed Windows
When choosing windows, keep style and size in mind. If you want your shed to match your home, use matching windows. If you have another style in mind, choose shed windows that match the style you are going for.
Before choosing your storage shed windows, decide if you want functional windows or non-functional windows. If you want windows that open, choose functional windows with outside screens so you can enjoy an open window without being overrun with insects. If you don't want windows that open, choose non-functional windows.
Invest in quality shed windows. Choose windows that are pre-manufactured of weather resistant aluminum containing tempered insulated glass.
If you are building your shed from scratch, purchase your storage shed windows before framing your shed. Draw up a plan showing where you will install shelves, pegboard, hooks, workbenches, and more to make sure your window placement will work. This keeps you from having unpleasant surprises later.
Place shed windows near work areas for natural light and consider roof windows (skylights) to maximize the amount of natural light inside your shed without taking up additional wall space with more windows.
Enhance the style of your storage shed windows. For example, install shutters and a flower box to add a "homey" style. In addition, consider curtains or blinds for light control and security, if you have items you want out of view. If you don't want curtains or blinds, consider tinted glass or solar film.
Storage Shed Doors
Always select wood or metal shed doors that are solid core (not just two sides with an empty space in the middle) and that are designed to be used as exterior doors. Doors designed for interior use will not be durable, long lasting, and do not handle exposure to weather and the elements well. Exterior doors are designed for outdoor exposure.
Choose storage shed doors that are wide enough to easily accommodate your needs. Double doors are better for large item storage, but single doors are great if you are just using your shed as a craft room or place to store small boxes.
Even if you don't plan to lock your shed, it is a good idea to go ahead and install locking doorknobs (appropriate for use on exterior doors). If you choose locking hardware in the style of your shed, it can also add to the stylish look you are going for with your shed doors. Since you have to install doorknobs anyway, it makes sense to install locking ones so you are prepared in case you ever change your mind or do want to lock your shed. Just make sure you keep the key handy and don't lose it!
Install galvanized steel reinforced hinges on your door so it stays aligned without the need for maintenance.
When building the threshold of your storage shed doors, consider a ramp instead of a step up into your storage shed. This makes moving large items like lawnmowers simple.
Read more: http://www.articlesbase.com/home-improvement-articles/storage-shed-windows-and-storage-shed-doors-587128.html#ixzz1AvqOk9eA
Under Creative Commons License: Attribution
If you're looking for a professional Toronto storage shed builder, then give us a call today at 1-866-893-9511 or complete our request estimate form.