Factors to Consider When Selecting an Outdoor Storage Shed in Toronto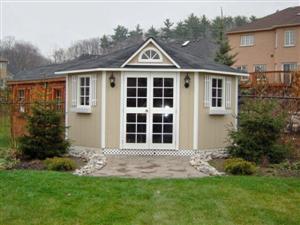 Outdoor storage sheds can be a great addition to your Toronto home for three reasons.
1. A storage shed offers a solution to your storage problems. It gives you a place to store all your tools, garden supplies, dirt bikes, RVs, boats, or anything else you want kept safe.
2. A tastefully built shed that matches the architectural design of your home can make your property look a lot more appealing.
3. A beautiful, functional shed increases the value of your property considerably. It means you can charge a higher rent to tenants and get better returns when you sell your home. If you are planning to add a shed to your home, you have three choices – you can buy it, build one yourself with precut parts, or build one from scratch.
Buying
You can find an incredibly huge range of outdoor storage sheds on the market today. You can either buy a premade shed or order a custom-made shed.
Outdoor Storage Sheds – Factors to Consider
Zoning Laws
Zoning, as you probably know, governs the height, size, and location of outdoor storage sheds. So, you should make sure you have the necessary building permit and your shed meets the local zoning requirements.
Roof Design
Your choices for the shed roof include lean-to (ideal for small spaces), gable (extra storage space), hip (great looking), gambrel (plenty of internal headroom), and saltbox (rustic look, resistant to strong winds).
Foundation
The common choices for a shed foundation include gravel (cheap), timber (easy to install), concrete pier (ideal for temporary sheds), and concrete blocks and slabs (ideal for strong, permanent structures).
Storage
You can increase the storage space of your shed by adding wall hooks, hangers, tool organizers, lofts, and cabinets.
Ventilation
Proper ventilation is necessary to pull moisture and stale air out of your shed. One of the simplest ways to do it is to add windows and vents to your shed. You can also add a ventilation fan that can pull out moisture and hot air out of your shed.
Security
Strong locks and alarm systems are essential for outdoor storage sheds. It is the best way to make sure all your valuable items are stored safely.
Article Source: http://EzineArticles.com/6215373
If you're looking for a professional Outdoor Storage Shed Builder in Toronto, then give us a call today at 1-866-893-9511 or complete our request estimate form.