Benefits of Having Your Own Storage Shed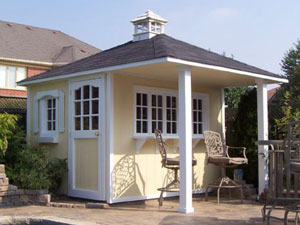 A Toronto storage shed can be found in a variety of different shapes, sizes, and even colors. They are becoming more and more popular, especially because they can be so versatile. There are many things that you can use a storage shed for, and there are a variety of different benefits to having one of your own. The following are a few great benefits that you could enjoy by purchasing your own storage shed.
1. Great for Extra Storage – One of the best benefits of having your own storage shed is that you can use it for extra storage. Many times you may find that you do not have room in your home for those boxes of Christmas decorations or for those knick knacks you just don't care to display. Having a storage shed provides you with a nice sheltered place where that you can use for extra storage if you need it.
2. Gives You Space for a Workshop – Another great benefit of having your own storage shed is that you can finally have a place for that workshop you have been dreaming of. Perhaps your wife won't let you have workshop in the garage, and you really want a place for that wood working hobby. Having a storage shed would give you your very own place to call your workshop, and you could tinker around to your hearts content.
3. Your Own Personal Gym – If you are a fitness buff, or just trying to keep that spare tire from creeping up on you, you can actually use a storage shed as your own personal gym. Why spend all that money on gym memberships when you can use your own storage shed for the exercising you need. It will definitely be very beneficial to you to be able to set up your very own workout room in your storage shed.
4. Provides Organization for Supplies – Getting organized is important, and having a storage shed can provide you with a place to get your tools, garden supplies, or even your pool supplies all organized. No doubt you want to be sure that you can easily find everything, and when you have a nice storage shed to store and organize your supplies in, it will make finding everything so much easier and also keep your supplies well protected too.
As you can see, there are a variety of benefits to having your very own storage shed. Whether you need a place for storage, a personal workshop, a place to workout, or even just a place to keep your supplies organized, no doubt you will benefit from installing a storage shed. The cost of these sheds are very reasonable, and for an affordable investment, you can enjoy all the benefits of having a storage shed in your back yard.
For more information about storage sheds and storage shed kits, please visit us at http://my-storage-shed.com/Lifetime_Sheds.html Article Source: EzineArticles – Michelle Moglia
If you're looking for a professional Toronto storage shed builder, then give us a call today at 1-866-893-9511 or complete our request estimate form.