Attractive and Versatile Outdoor Sheds in Toronto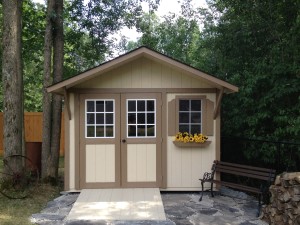 If you're like most people in Toronto, your carport or garage is probably stuffed with outdoor tools, boxes, and other junk. What better way to pick up and get organized than to install a custom outdoor shed for storage? Not only will your garage or carport no longer be the eyesore of the neighborhood, but an attractive custom shed can actually add to the value of your home.
The great thing about sheds is that you can have them built to suit your house, your yard environment, and your needs. Styles, colors, shapes, sizes, and locations are no problem when designing custom storage sheds.
You can have a shed built to your specifications. Most shed builders will offer you the option of assembling the shed for you, or shipping the unfinished product to your house so you can build it yourself and save some money. Builders of custom outdoor sheds will tell you how to build the flooring so the shed can be constructed immediately upon arrival.
What else can you use outdoor sheds for? What about a home workshop? A man in Utah built a log shed for his home wood carving business. The rustic log shed matches his rustic tree troll carvings perfectly. A couple in Minnesota use their outdoor shed as a playhouse for their grandchildren. They're also perfect to use as outdoor gardening storage locations. There are no limits to what these sheds can be used for.
Custom sheds are seldom as flimsy as the thin aluminum shed in Arizona that went to pieces in the middle of a large dust devil. Parts of this shed flew approximately a hundred feet in the air scattering throughout the neighborhood, never to be seen again. Even though a specialty shed may cost a little more than aluminum sheds, it's a worthwhile investment due to its durability. As long you adequately anchor a well-built outdoor shed, it should last for years.
Article Source: http://EzineArticles.com/2310927
If you're looking for a professional Toronto outdoor storage shed builder, then give us a call today at 1-866-893-9511 or complete our request estimate form.