5 Great Uses For a Custom Shed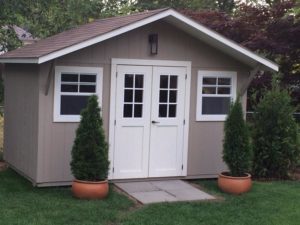 If your Ontario home seems just a little bit too small for your needs, a custom shed may be able to help you. Whether you simply need additional storage space or you wish you could add an extra room to your property for work or play, a new wooden shed could be the answer to your problems! At Lee Sheds, we offer high-quality custom sheds to meet all your space and storage needs. If you think a new shed could benefit your Toronto household, contact us today to get started!
Added Storage Space
In many Ontario households, storage space is in short supply. One of the easiest solutions is to add storage outside the home using a shed. Traditionally used for storage, sheds provide a great,convenient place for all your lawn and gardening tools, freeing up precious space in your garage or inside your home. Whether you need a smaller shed, such as The Hutch, or a larger shed like The Gambrella, we have a variety of shed styles and sizes to offer for your storage needs. With over 35 years of experience, Lee Sheds has the knowledge and skill to create a customized shed that suits your exact needs.
Children's Playhouse
If your Toronto home needs a fun play space for your children or grandchildren, a custom shed can be just the thing! We offer a variety of great styles to choose from, including the Chateau and The Garden House, both of which make excellent playhouses for children. We can add windows and other accessories to help make the shed a bright and welcoming place for children to let their imaginations run wild! Consider letting your children select their exterior paint color for added fun in customizing their new play house.
Pool Cabana
At Lee Sheds, we can build a customized pool cabana for your yard. If your pool could use a shady spot for socialization, our experts can help with that. If you need somewhere for guests to change in and out of their swimwear, let us help you create a customized pool cabana, complete with a changing room. Whether you are looking to create a lounge area or a changing room, we have plenty of great ideas for enhancing your pool area with a functional and beautiful new pool cabana.
Hobby Room
If someone in your home has a hobby that requires a great deal of space, a shed may be the solution. Maybe you enjoy crafting, but are sick of your latest project taking up too much space and making your house feel disorganized and crowded. Perhaps your spouse is really into wood-working but has nowhere to keep his projects organized. Maybe your teenager needs space to practice playing the drums without bursting your eardrums! Whatever your household's interests, from painting, to sewing, to jig-saw puzzle solving, a well-lit shed can offer a great space to pursue any hobby. Our team at Lee Sheds will work closely with you to make sure that your new shed is customized to fit your household's needs.
Relaxing Getaway
If your home is bustling hub of activity, you may be seeking a serene escape from daily life. A new shed can feel like a small home away from home right in your own backyard. Paint the inside of your shed a relaxing color, and decorate it with textures and colors that give you a sense of calm. Designed to your specifications, your shed can offer a relaxing spot to read, rest, or meditate. Yoga enthusiasts can even create their own yoga retreat for whenever they need a moment to find peace of mind!
When it comes to having a new custom shed installed in your Ontario yard, the possibilities are endless. As an extension of your living space, your shed can become a playhouse, a hobby room, a backyard getaway, a pool cabana, and more! Of course, you can always stick to the most traditional use for your shed and add precious storage space to your property. Whatever you decide, the expert Ontario shed builders at Lee Sheds will help you every step of the way to ensure that you love your custom shed for years to come!
If you're looking for a professional Ontario shed builder, then give us a call today at 1-866-893-9511 or complete our request estimate form.